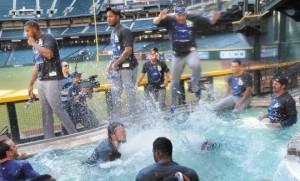 John McCain, Arizona Senator and 2008 Republican nominee for President, blasted the Los Angeles Dodgers baseball team for jumping into the pool at the Arizona Diamondbacks' stadium during the Dodgers' celebration after winning the National League West division title on Thursday.
McCain voiced his displeasure by tweeting, "No-class act by a bunch of overpaid, immature, arrogant, spoiled brats! 'The Dodgers are idiots'." He included a link to an Arizona Republic column titled "The Dodgers are idiots."
Dodgers pitcher Brian Wilson responded to McCain with a tweet of his own, saying "Senator McComplain knows a thing or two about coming in second and watching someone take a plunge in the pool (I mean poll). POoLITICS."
The controversy over the Dodgers' celebration has been amusingly dubbed "Poolgate" by some. (In reference to the Watergate scandal that brought down the Nixon administration in the 1970s).
The Dodgers clinched the division title with a 7-6 victory over the Arizona Diamondbacks, and after a raucous celebration in the clubhouse, about half the team came back outside, scaled the outfield wall and jumped into the pool at Chase Field in Phoenix, Arizona.
Their mode of celebration upset many Diamondback players, executives, and fans.
Arizona Diamondbacks president and CEO Derrick Hall said to the media, "I could call it disrespectful and classless, but they don't have a beautiful pool at their old park and must have really wanted to see what one was like."
The Diamondbacks had requested that the Dodgers keep their players from returning onto the field once their celebration began. After the game, the players gathered into the clubhouse where beer and champagne flowed freely in front of television cameras.
But after a while, Dodgers players began running to the pool and jumped in. Scenes of the pool celebration were widely shown on sports highlight reels Friday.
Dodgers team president Stan Kasten said said they had misunderstood the Diamondbacks' request, thinking they meant for their players not to celebrate raucously in front of the Arizona fans. The stadium was almost empty by the time the Dodgers went into the pool.
The request was actually an effort to preserve the playing field, which is already in poor condition.
Diamondbacks infielder Willie Bloomquist said of the pool party, "I think it's tired and disrespectful. It's surprising because they have a lot of veteran guys on that team that I thought were classier than that".
There was already bad blood between these two teams going back to a game played in June in Los Angeles. After an Arizona pitcher hit a Los Angeles batter, both dugouts emptied and the teams got into a huge fight - the biggest and longest on-field baseball brawl in recent memory.
The Dodgers were in last place at that time and appeared to be going nowhere, in spite of having the highest payroll in the National League.
But a few days later they made an incredible turnaround, going 42-8 over a 50-game stretch, a mark that tied the highest number of wins over any 50- game stretch in the past 100 years of major league baseball history.
Thursday they became the season's first team to clinch a division title with their win over Arizona.
Dodgers manager Don Mattingly said he was perplexed that people are making such a big deal out of the pool celebration.
"One thing I don't want it to do is take away from what these guys have accomplished," said Mattingly. "They've played really good baseball and have been a team that has really played hard, and I don't want that to be overshadowed by this. I'm a little taken back [by reaction] because it's gone a little too far for me. That celebration yesterday is the culmination of a long year. Spring training, a lot of games, It's like the tea pot.
"These are like little baby boys; it's like Little League when these guys win. It's exciting and stuff is spontaneous. I don't think there was a plan to embarrass anybody. And to be honest with you, I bet there weren't 100 fans out there in those seats. Everybody was gone. So it's not like they were doing anything to rub it in anybody's face. There wasn't anybody there. If we tore anything up I would feel bad about that but we didn't hurt the pool. It can't be that bad."
Mattingly also said he didn't even know the Dodgers had jumped into the pool until after it was over.
"I had no clue until later," Mattingly said. "Everybody was already wet anyway. I did not know until later."
When Mattingly was asked about McCain's tweet, he referred to Wilson's response.
"Wilson's back was kind of funny," Mattingly said. "Poolitics, right? I don't think it's that big of a deal. I don't think it hurt anybody and I don't think it was done on purpose to embarrass anybody. If we won it here, [in San Diego, where the Dodgers were about to play the Padres] would the Padres be mad if we jumped the fence and made sand castles in the sand box out there. Seriously, would anyone care?" Image/Wally Skalij/The Los Angeles Times