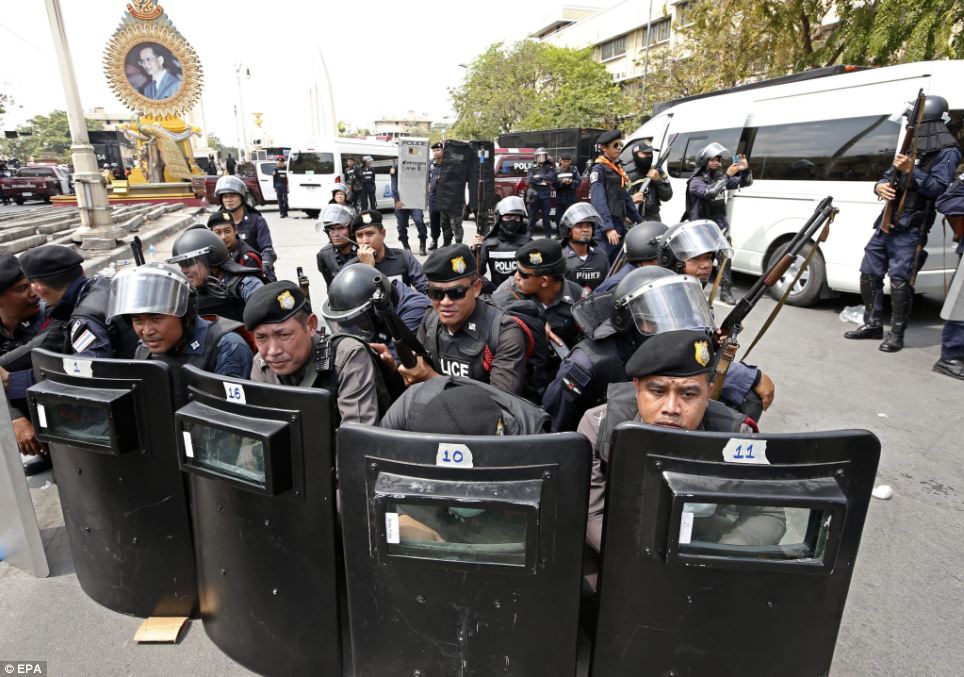 Thailand: Police critical of commanders and govt in fatal clashes — Some riot police who participated in Tuesday's fatal clash with protesters have criticized their commanders and the government for "confusing and unclear commands" which resulted in their unsuccessful attempt to retake a Bangkok rally site, according to reports.
Officers deployed to control protesters on Ratchadamnoen Avenue told the Bangkok Post that after their prolonged operation they were exhausted and suffered from low morale, especially after the death of a policeman and civilians.
Speaking on condition of anonymity, some officers questioned the decisions of their commanders and the government's Centre for Maintaining Peace and Order (CMPO), according to a Bangkok Post report.
They said the attempted crackdown on anti-government demonstrators at the Phan Fa Bridge protest site appeared to have been set up for the benefit of the media to show that police effectively cleared the area.
But when they ran into an unexpected armed response from unidentified elements they were forced to make a hasty and disorganized retreat.
One police officer who was a part of the attempted crackdown said over 2,000 police had been mobilised at one end of Ratchadamnoen Avenue at 5am. They were moved to Democracy Monument between 8am and 9am, but the crackdown operation was then delayed until almost 11am.
"We talked and agreed that dawn was the most suitable time to crack down and retake the area because the number of people was so small and we wondered why commanders did not do it then," said the officer.
When the operation finally began, police were attacked with grenades and guns and dispersed, said the officer.
They only heard the retreat order, but then all their commanders disappeared, and police did not know what to do, so they ran in different directions.
He said thousands of police officers virtually disappeared from Ratchadamnoen Avenue in less than two minutes.
The delayed operation had exhausted them, he said, adding that they had not received food that morning.
"If the CMPO had launched the operation early that morning, it would have been finished. The mob could not have fought. But why didn't that happen?" he asked.